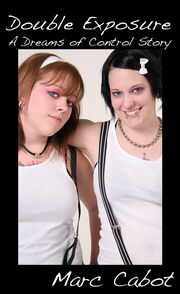 Double Exposure is the fifteenth-published Dreams of Control story, first published on Amazon in March 2013. It is the third book in the "Lucky Break" series and the sequel to On A Roll. The next book in the "Lucky Break" series is Shooting on Location.  
Sean Dunston was just a computer artist who liked to take pictures of models for reference for his digital paintings. Then one day he knocked over one of his studio flash units and it started buzzing, flickering... and hypnotizing the models!
Now he's trying to replicate the accident and make a better, more powerful version. His first test: Internet model "Miss Nasty" and her friend Veronica, who shows up unexpectedly during Miss Nasty's booking. Can Sean's new mind control flash overpower not one but two hot models? And if so... just how steamy will the session get?
External Links
Edit
Ad blocker interference detected!
Wikia is a free-to-use site that makes money from advertising. We have a modified experience for viewers using ad blockers

Wikia is not accessible if you've made further modifications. Remove the custom ad blocker rule(s) and the page will load as expected.