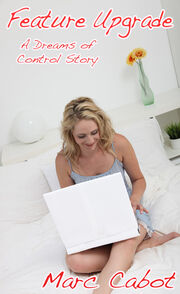 Feature Upgrade 
is the thirtieth-published 
Dreams of Control
 story, first published on Amazon in September 2015. It is the fourth book in the "HiddenDepths" series and the sequel to
Kawaii (HiddenDepths)
.
HiddenDepths is back, and this time, he's not just looking for pretty girls who like his mysterious picture. He's got a new invention that takes his mind-controlling tricks to a whole new level...  Liridona is a pretty girl from Albania, working her way through university as a camgirl. It's a little sleazy, but it pays the bills. It's good money and easy work. Sometimes, it's even fun! Then one night a man comes into her chatroom with a lot of interest in her new remote-control vibrator. A few tips, and it's buzzing between her legs, and somehow, in her head. Before he's done, the vibrator isn't the only thing under his control! (Erotic mind control, male dominant, camgirl, vibrator)== Trivia == No trivia entries for this work.
External Links
Edit
Ad blocker interference detected!
Wikia is a free-to-use site that makes money from advertising. We have a modified experience for viewers using ad blockers

Wikia is not accessible if you've made further modifications. Remove the custom ad blocker rule(s) and the page will load as expected.