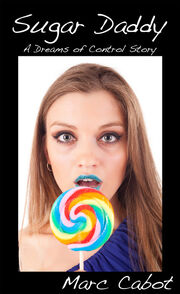 Sugar Daddy is the seventeenth-published Dreams of Control story and the first book in the "Sugar Babies" series. It was first published on Amazon in June 2013.
Olivia may be pretty, but she's had a hard life. She's so broke she had to drop out of college and wait tables. But just when it seems like things will never improve, her friend Lena tells her about her "Sugar Daddy." He takes her on trips, gives her an allowance, and all he asks in return is a little... company.
But when Olivia decides to do the same thing, her new Sugar Daddy, Edwin, has a surprise for her. Before she knows it, she's a helpless sugar baby practically melting in his mouth, and in his bed. As long as he's nice to her, she has to be very nice to him - any way he wants!
Connections to Other Dreams of Control StoriesEdit
The candies used by Edwin contain the super-will-surpressant created by Dr. Adrian Parker, the main character of At His Discretion.
External Links
Edit
Ad blocker interference detected!
Wikia is a free-to-use site that makes money from advertising. We have a modified experience for viewers using ad blockers

Wikia is not accessible if you've made further modifications. Remove the custom ad blocker rule(s) and the page will load as expected.